State Route 24 Interim Phase II: Ellsworth Road to Ironwood Drive from maricopa county to pinal county
The new addition to the freeway is supposed to be added by the end of summer. Once this is added to San Tan Valley it will open up a ton more business oportunities and hopefully make the commute to work quicker. this is what the azdot has to say –
"The Arizona Department of Transportation, in conjunction with the Federal Highway Administration, has begun construction of the Interim Phase II section of State Route 24 (SR 24) also referred to as Gateway Freeway.  This section will include approximately five miles of new freeway extending from Ellsworth Road in Maricopa County to Ironwood Drive in Pinal County. 
The Interim Phase II segment of SR 24 follows the completion of Phase I in 2014, which opened the segment of freeway between SR 202 (Loop 202/Santan Freeway) and Ellsworth Road.
Since the ultimate build-out of SR 24 is not anticipated until Phase V of the Maricopa Association of Governments' Regional Transportation Plan(link is external), ADOT and FHWA have planned for an interim facility that will help serve the transportation needs of the region until additional funding is made available. The interim facility will preserve the access control plan for this corridor outlined in the 2011 Design Concept Report, and be built at-or-above grade throughout.
Project Elements
Two paved lanes in each direction separated by a graded median.
At-grade intersections at the following locations:


Williams Field Road
Signal Butte Road
Meridian Road
Ironwood Drive

Bridges over Ellsworth and Mountain roads
A drainage channel along the north side of the freeway.
Signage, traffic signals, lighting and pavement marking, as necessary.
Project Area Map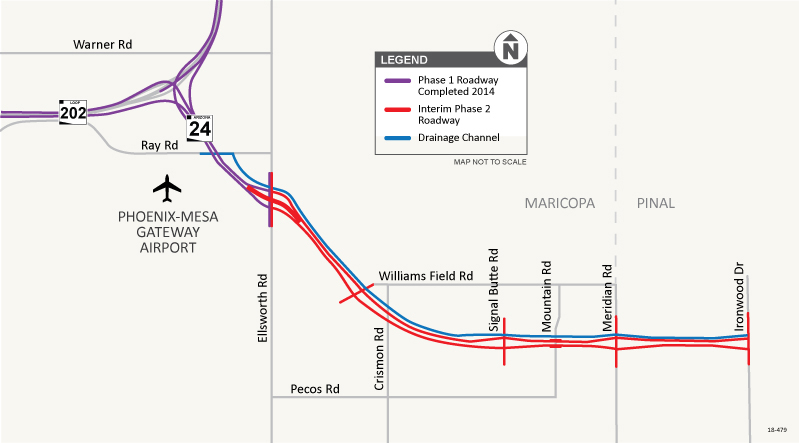 What to expect during construction
Traffic restrictions for several months at Ellsworth Road during roadway and bridge construction.
Lane closures at Mountain Road; detours planned on Williams Field Road, 222nd Street and Pecos Road.
Lane restrictions and traffic shifts for several months at Ironwood Drive during phased construction.
Construction will primarily occur on weekdays during daytime hours. Some overnight and weekend work will be needed for bridge work, concrete pours, asphalt paving or other temperature-sensitive construction work. Schedules are subject to change based on weather and other unforeseen factors.
Stay Informed
Schedules are subject to change based on weather and other unforeseen factors.  Subscribe to receive project updates and traffic alerts by email. For more information, please call the ADOT Bilingual Project Information Line at 855.712.8530 or submit a question or comment by email.  For real-time highway conditions statewide, visit ADOT's Traveler Information Site at www.az511.gov, follow ADOT on Twitter (@ArizonaDOT(link is external)) or call 511, except while driving."